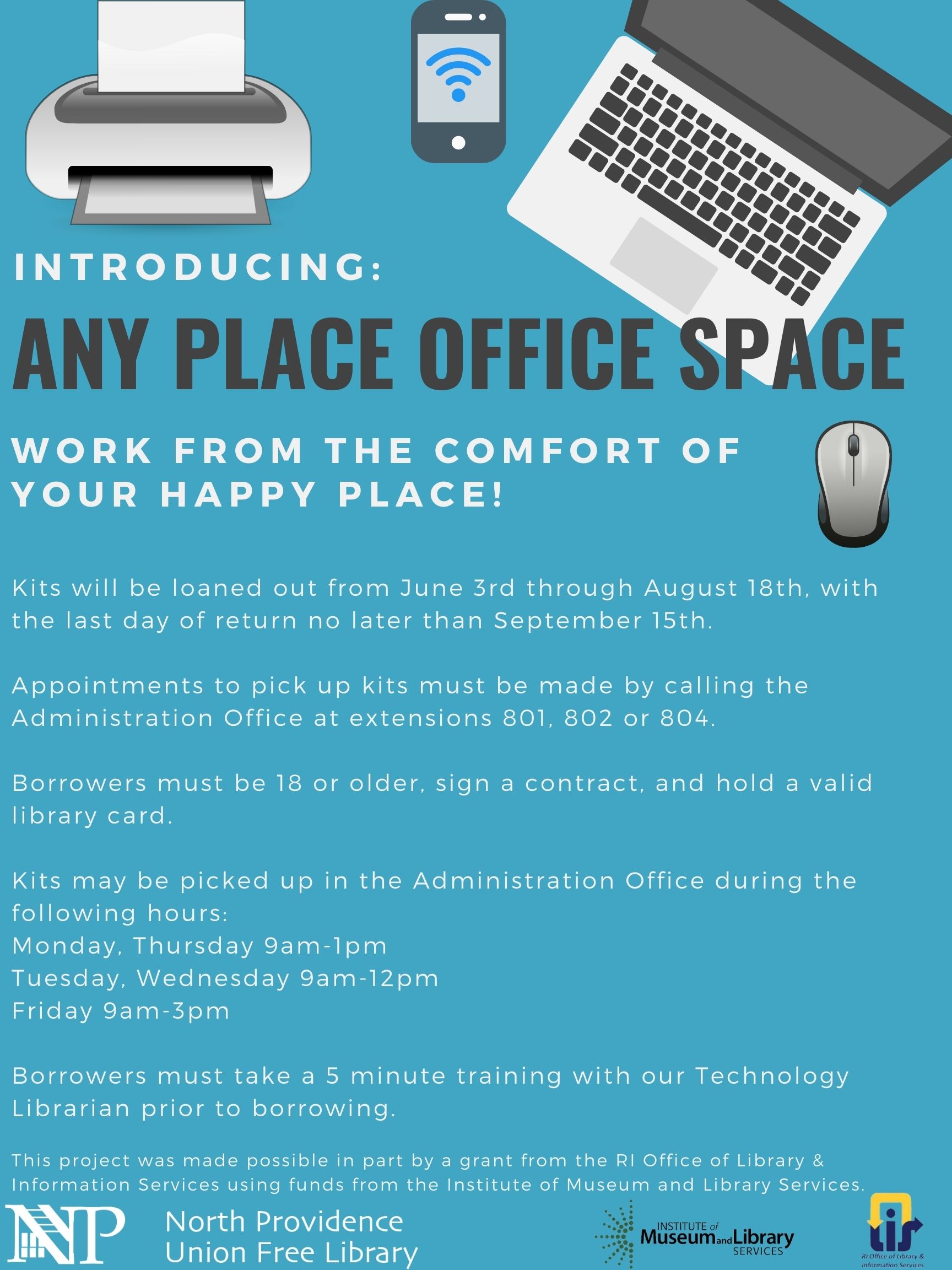 Introducing: Any Place Office Space
"Work from the comfort of your happy place" with a laptop, mobile printer, and mobile hotspot.
Each kit also comes with a ream of paper and a flash drive which patrons can keep upon return. Paper and ink will not be replenished during the lending period.
Kits will be loaned out from June 3rd through August 18th, with the last day of return no later than September 15th.
Appointments to pick up kits must be made by calling the Administration Office at 353-5600 extensions 801, 802 or 804.
Borrowers must be 18 or older, sign a contract, and hold a valid library card.
Kits may be picked up in the Administration Office during the following hours:
Monday, Thursday 9am-1pm
Tuesday, Wednesday 9am-12pm
Friday 9am-3pm
Borrowers must take a 5 minute training with our Technology Librarian prior to borrowing.
This project was made possible in part by a LORI grant from the RI Office of Library & Information Services using funds from the Institute of Museum and Library Services.
The Office of Library and Information Services (OLIS), an office within the Department of Administration, is the state library agency for Rhode Island. OLIS strengthens, connects and empowers libraries to advance knowledge, connect communities, and enrich the lives of all Rhode Islanders. The Library of Rhode Island (LORI) is a multi-type library network coordinated by OLIS to facilitate resource-sharing among libraries and expand opportunities for access to library materials by Rhode Island residents statewide. To learn more, visit OLIS and follow OLIS on Facebook and Twitter.
The Institute of Museum and Library Services is the primary source of federal support for the nation's libraries and museums. IMLS advances, supports, and empowers America's museums, libraries, and related organizations through grantmaking, research, and policy development. IMLS envisions a nation where museums and libraries work together to transform the lives of individuals and communities. To learn more, visit IMLS and follow IMLS on Facebook and Twitter.