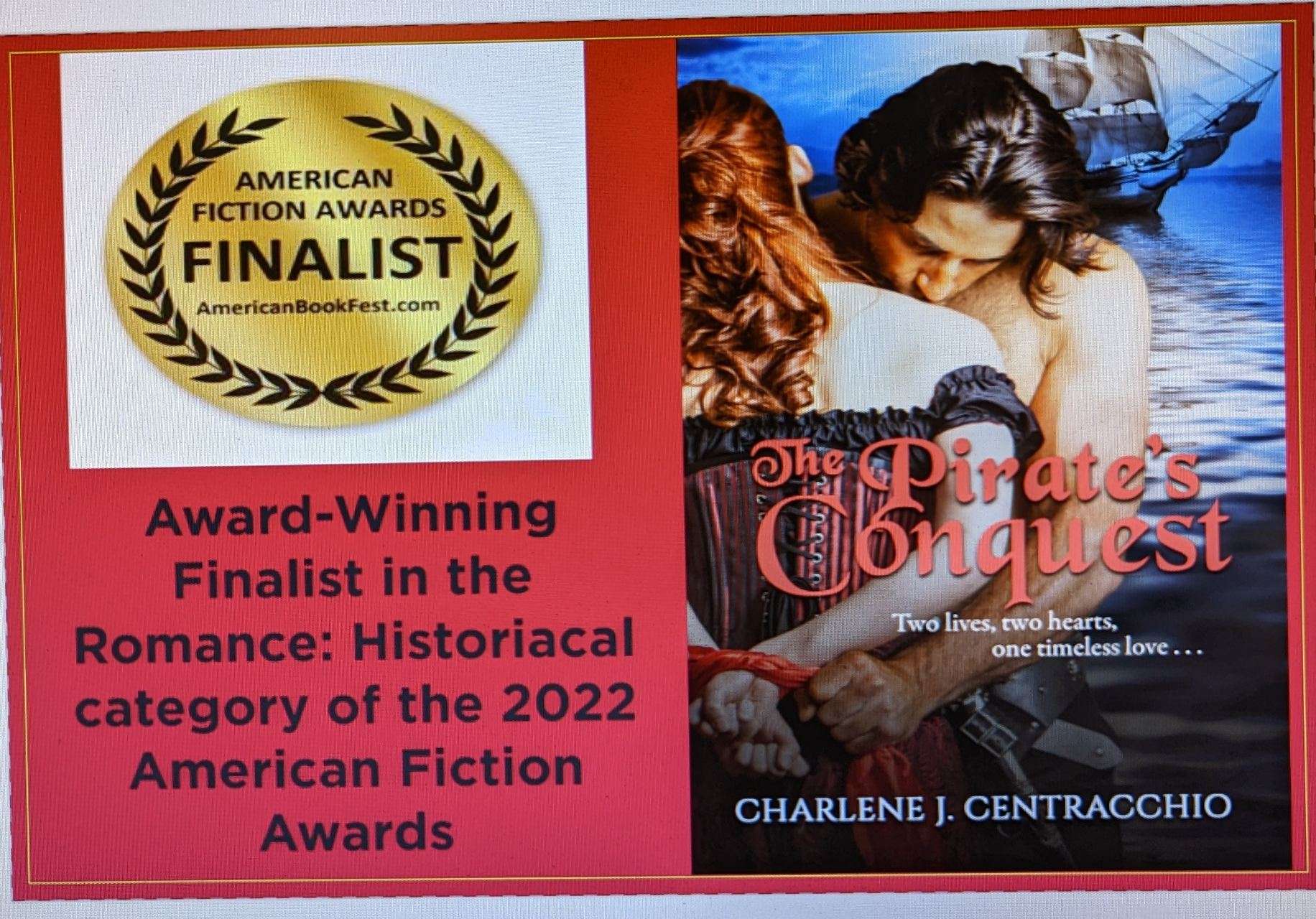 Join local teacher and resident Charlene Centracchio as she discusses her new novel "The Pirate's Conquest," an Award-Winning Finalist in the "Romance: Historical" category of the 2022 American Fiction Awards from American Book Fest.  A limited number of books will be available for purchase.
This event is taking place on Tuesday, October 11th at 6:00pm in the Community Meeting Room.
Recommended for ages 18+ due to the themes discussed in the book. Registration is recommended.
"Two lives, two hearts, one timeless love…..
Timothy Lockwood, respected shipbuilder or extremely dangerous Captain of the Moonlight? He has a vast knowledge of the sea, clipper ships, and an uncanny knack to create detailed sailing maps. He conducts his business in two completely different circles of individuals, those respected and those not. Behind those golden eyes are many secrets known by only one group of friends.
Headstrong Jennifer Weatherly reeled when she found out that her father promised her in marriage. Determined to not honor her father's wishes, she contracts with the Captain of the Moonlight to help her disappear.
Upon meeting her on his ship, his golden eyes locked with her sea green ones. He felt an electrifying shock go through his spine instinctively knowing she would cause a problem in his life and future plans. Miss Weatherly had no idea that her escape plan with Captain Lockwood would ultimately take her across the world. He didn't realize that she would drown him in unbridled passion; distracting him from his ultimate plans and revealing his secrets."
Charlene J. Centracchio is a native of Rhode Island with multiple degrees from Rhode Island College and Providence College in Social Science/Education (BA), Secondary Education/Gifted Education (M.Ed.), Counseling (M.A.) and Curriculum & Instruction (CAGS). She worked in the public school system from 1980 until her retirement (2010), serving the district as a high school social studies teacher and guidance counselor. During her tenure in education she served on many committees for the school itself and the district, including the School Improvement Team, curriculum writing and NEASC Standards Chairperson. She served as a mentor for many students in the district through various activities such as Class Advisor, Drama Director, Cheerleading/Majorette coach and the Booster Club Advisor. She was on a team of people who won the Presidential Award For Drug Free Schools and Communities resulting in the Key to her home town. As a guidance counselor she was nominated for and won the New England Association of College Admissions Counseling: Margaret Addis Memorial Scholar (2010) for the State of Rhode Island. Writing has been an important part of Charlene's life starting at an early age when she started writing short stories, poems, and multitudes of educational documents. She currently works part time as a paralegal.
Charlene is also an intuitive psychic card reader utilizing a regular deck of playing cards as a tool to connect with the vibration of energy from the person's name. She has been reading cards for 35 years and has many clients that she helps achieve their highest goals for betterment of their lives. She is trained in Reiki Healing, as well as Magnified Healing. Her psychic gift has been passed to her from both sides of her family with the greatest gift and direct lineage coming from her mom's side. Her spirit guides are those who passed on such as her mother and father, as well as various pets and other animals who come to her.