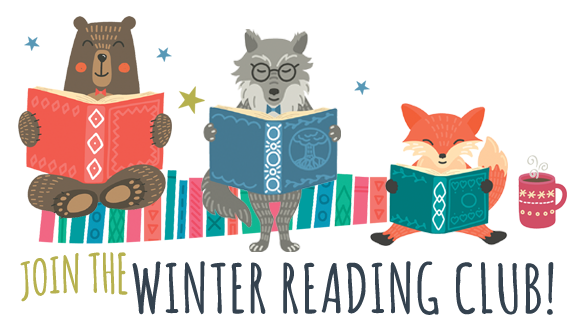 Keep scrolling down to see descriptions and book picks for each club below:
Join us for Rooster Games Book Club (kids in grades 3-5), or Family Book Club (kids in grades K-2 with their grownup)!
Miss Lynda runs a great Rooster Games book club for kids in grades 3-5. All kids read the same book, which they rate and discuss during the monthly club. There are often games to be played as well! 
The group will meet on the 2nd Thursday (note new day) of the month at 6pm, and kids are expected to read (at least most of) the book before coming to book club. Participants will sometimes help pick the book for the next month's discussion, though a lot of the books are picked from the Rhode Island Children's Book Award (RICBA) Nominee list. See the list of nominees on the RICBA facebook page (you need to be logged into Facebook for the link to work).
Books for the next month are available at the Circulation desk. To register, click here.
UPCOMING BOOKS MEETS FOR ROOSTER GAMES BOOK CLUB:
Tuesday, Jan. 10 (TUESDAY): Allergic, by Megan Wagner Lloyd
Thursday, Feb. 9 (2nd THURSDAYS going forward): Willodeen, by Katherine Applegate
Thursday, Mar. 9: Shark Summer, by Ira Marcks
Thursday, Apr. 13: Maya and the Robot, by Eve L. Ewing
Thursday, May 11: Read a RICBA 2023 book that you haven't yet. We'll share our books and thoughts!
**Book choices are subject to change**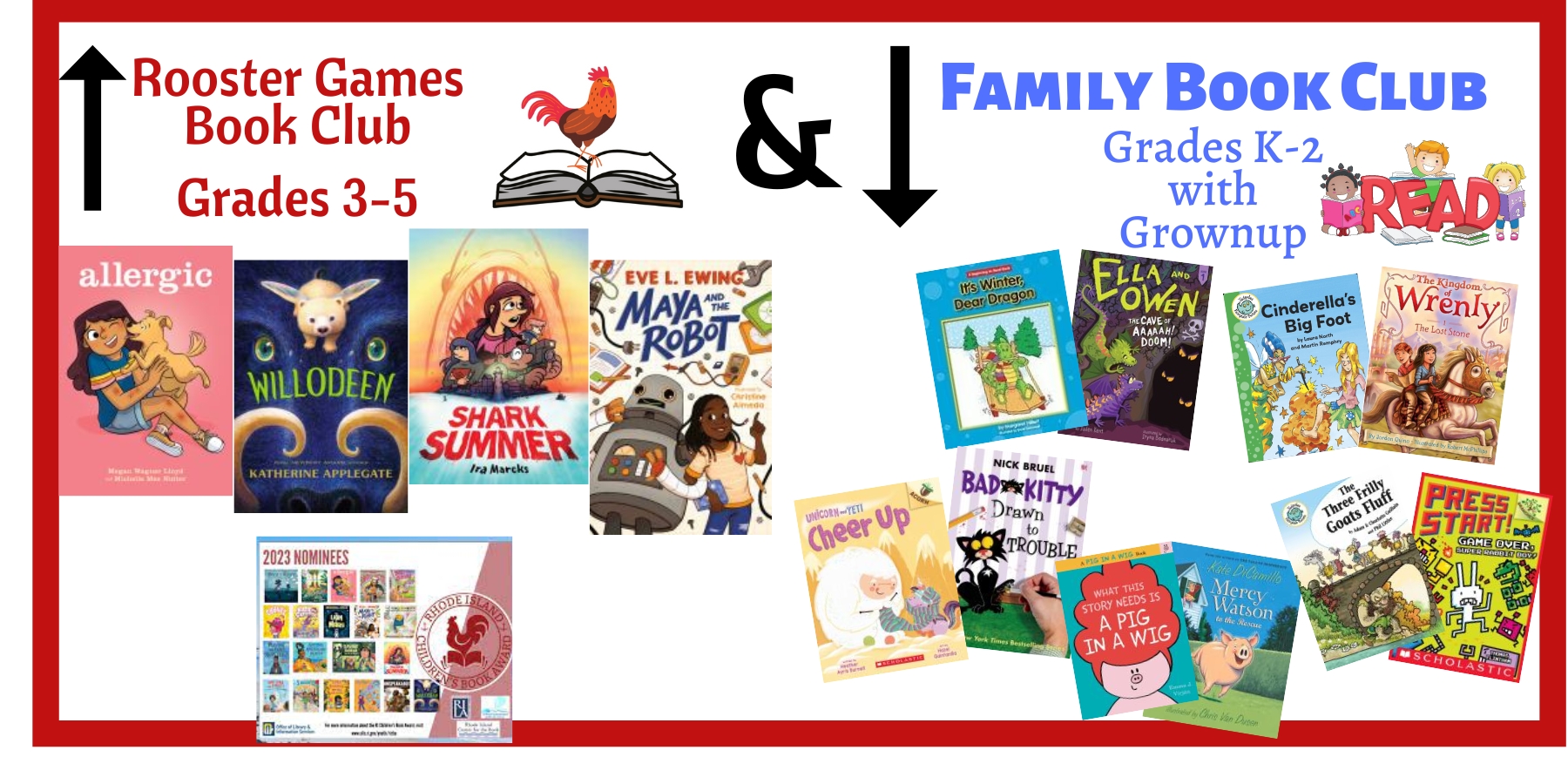 ~AND~
Our MONTHLY FAMILY BOOK CLUB, just for kids in Kindergarten - 2nd grade, along with their grownup of choice! In this club, kids DO NOT have to know how to read to participate! Miss Judy will read aloud an Early Reader book (think Elephant and Piggie), and will also read aloud the first chapter of a First Chapter book (think Owl Diaries). Kids will be given the First Chapter book to take home and finish with their grownup, and they will also be asked to take an Early Reader book home to read as well. The format can change if needed, but we think it will be lots of fun! There will also be a literacy activity/game to complete during the club. We ask that you not bring siblings for this book club, as it is geared toward emerging readers.
The group will meet on the 1st Tuesday of the month at 6pm. Participants can definitely help pick the books for the next month's discussion. Books will be provided at the club. To register, click here.
UPCOMING BOOKS MEETS FOR FAMILY BOOK CLUB:
THURSDAY, Jan. 12: Early Reader: It's Winter, Dear Dragon by Margaret Hillert
                                   First Chapter: Ella and Owen: The Cave of Aaaaah! Doom! by Jaden Kent
Tuesday, Feb. 7: Early Reader: Unicorn and Yeti Cheer Up by Heather Ayris Burnell
                             First Chapter: Happy Birthday Bad Kitty by Nick Bruel
Tuesday, Mar. 7: Early Reader: Cinderella's Big Foot by Laura North and Martin Remphrey
                            First Chapter: Kingdom of Wrenly Book #1: The Lost Stone by Jordan Quinn
Tuesday, Apr. 4: Early Reader: What This Story Needs is a Pig in a Wig by Emma J. Virjan
                            First Chapter: Mercy Watson to the Rescue by Kate DiCamillo
Tuesday, May 2: Early Reader: Three Frilly Goats Gruff by Adam and Charlotte Guillain and Phil Littler
                            First Chapter: Press Start! Game Over, Super Rabbit Boy! by Adam and Charlotte Guillain and Phil Littler
**Book choices are subject to change**